I've usually contributed to KDE by developing software itself, I've done other things from KDE Spain as well, as many presentations but that's not really my focus.
What I'd like to discuss today is my experience with the commit digest. Since before I even had a KDE svn account, I started following commit digest. For those who don't know about it, the commit digest is a service that with the help of some editors, it gathers what KDE commits have been interesting during a week and posts them together in a nice web page.
I've always liked it. Enthusiasts have few ways of following the KDE development: the Planet KDE, KDE News, some mailing lists. But all those refer mostly refer to things that are quite close to be usable or just discussions but little actual work. Those are great, but some of us like to see how those come together, like in a crystal ball. Here's where the commit digest helps a lot, because it puts some interesting specific modifications and fixed bugs that have happened in our code base for the reader to see what has been going on. I think it's fantastic!
In any case, a couple of weeks ago I saw some of the editors asking for help and I decided to contribute to it. Getting started is easy, you just go to the enzyme web and apply for the role you'd like to do and then you'll receive an e-mail with the mailing list and a wiki page discussing the guidelines.
From there you can start contributing from a nice interface such as this: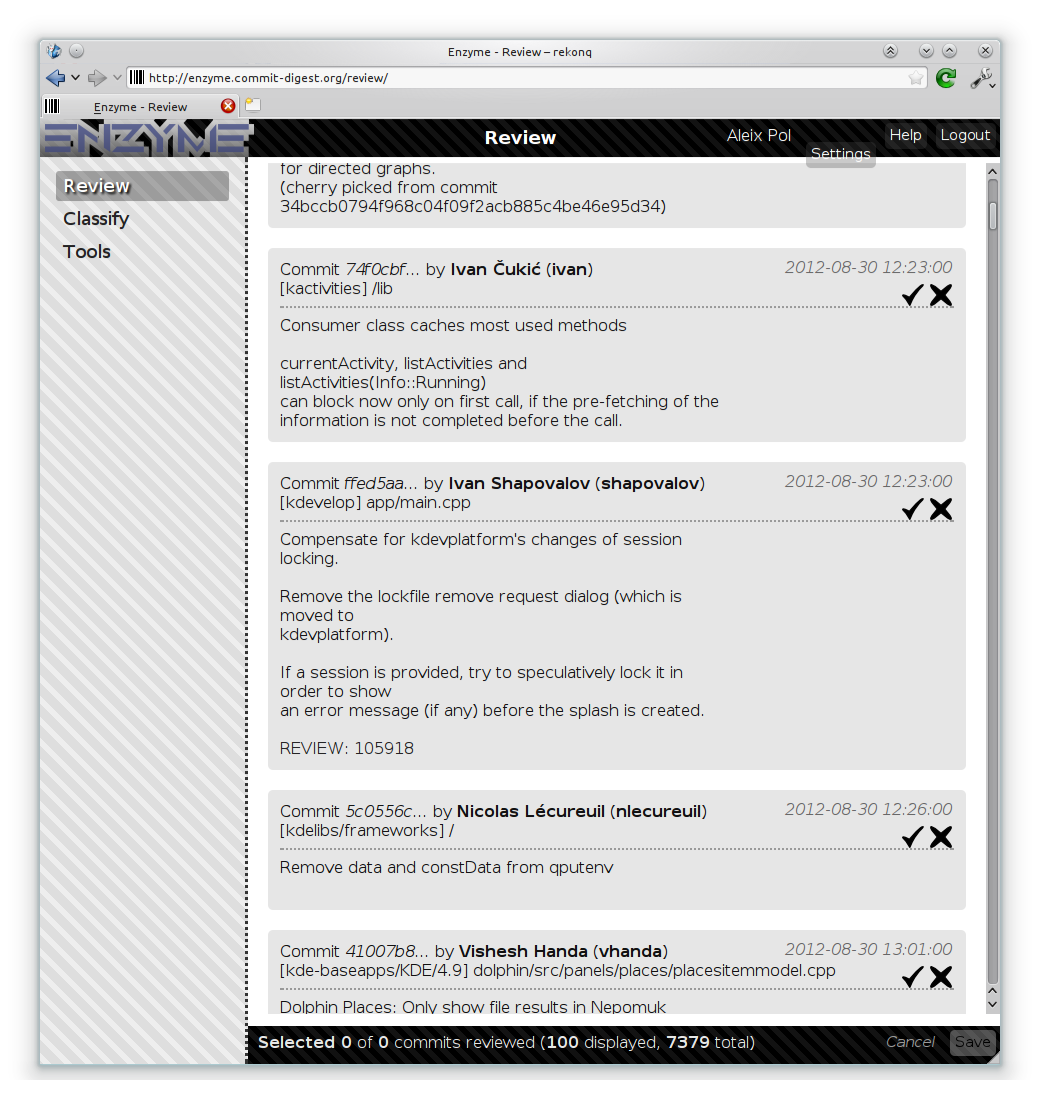 There you just press the cross or the tick if the commit should proceed or not. I recently found out that the keyboard can be used for that as well; you can do so by pressing the Right Arrow key for jumping to the next entry and space whenever you find a commit relevant, this will mark the current commit as good, so that it can be classified afterwards.
All in all, I think that the Commit Digest is a very nice way to contribute to KDE. It's easy to get started with it and I think it pays off. Also you get to see how most people work inside KDE.
Hope you find this interesting like I did!