With 2017 starting, we're getting ready for the next Plasma 5.9 release and with it a new Discover release.
This will be a special release for two main reasons: further add-ons integration and Kirigami.
New Stuff
One thing pending for a long time was to actually better integrate the different parts of the system that can be integrated. To do so, Discover now will automatically import all knsrc files present on the system and offer them as categories.
We'll be able to go beyond Plasmoids and Comics (!) and make it possible to explore: Plasma Look and Feel themes, cursors, icon themes, window manager add-ons and different application-specific resources.
This won't have a big impact on Discover's performance because the backend code was refactored to be able to have several backends loaded even without knowing all of the resources available. Queries are now asynchronous and parallel.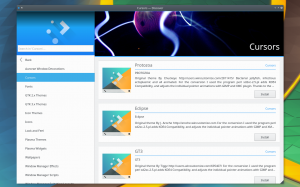 Kirigami
Kirigami was adopted in the previous release already, and this release will use Kirigami 2, the port to which did not require much work.
The most significant improvement is the inclusion of keyboard navigation, which was requested by several people and is now finally available. Do you hate it when you're required to use the mouse? Rejoice!
Extra: Snappy support
It's 2017, not all of the applications are coming from your distribution anymore. To start getting things in place for different software distribution sources I started working on a Snap backend, which allows us to manage applications coming from this system.
Some work will still be required and it won't be included by default, since it doesn't yet support AppStream (although we discussed it and it seems it will happen soon), but if you're curious feel free to take a look and give your feedback!